AirPura T600 Air Purifier is an effective AirPura solution against primary and secondhand smoke. AirPura T600 employs massive amount of adsorbent in the AirPura oversize carbon canister and the AirPura T600 special Tar-barrier pre-filter. This allows AirPura T600 to deliver a superior level of protection from cigarette smoke, tobacco smoke, wildfire smoke, smoke from a wood burning stove, etc. in large areas up to 2000 sq. ft.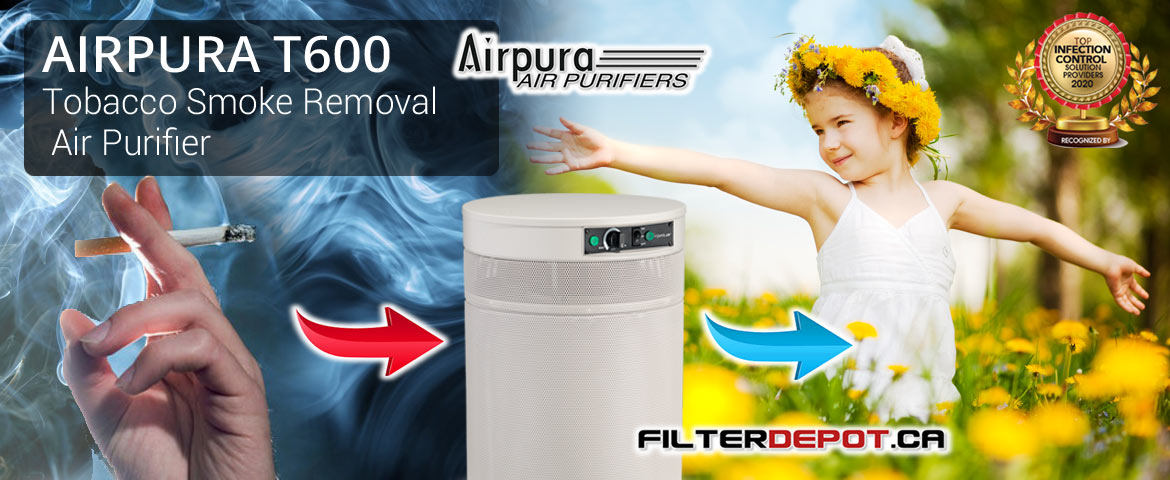 AirPura T600 Air Purifier Highlights:
AirPura T600 employs the oversize 3-inch deep carbon canister with massive amount (26 lbs.) of adsorbent.
The AirPura T600 tar-trapping pre-filter provides an effective removal of tars in cigarette smoke.
AirPura T600 is powered by high efficiency, low energy consumption and quiet motor/fan assembly.
The AirPura T600 variable speed control allows to set the optimal air flow in most situations.
The superior air flow rating of 560 CFM makes AirPura T600 very effective in purifying areas up to 2000 sq. ft.
AirPura T600 features non off-gassing and durable the all metal housing with 260 degree polluted air intake.
AirPura T600 is covered by the 5 / 10 Year limited manufacturer's warranty - strongest in the industry.
AirPura T600 air purifier doesn't produce ozone or any toxic off-gassing.
AirPura T600 air purifier ships Free by FedEx Ground service in US and Canada.
AirPura T600 comes with a 30-Day Money Back Satisfaction Guarantee policy.
AirPura T600 - When to Use?
AirPura T600 air purifier's single the most important purpose is to deliver a Superior rate of removal of all dangerous components in a cigarette (tobacco) smoke and provide a superior level of protection from primary and a second-hand smoke.
Aside from the households with heavy smokers the AirPura T600 typical applications include: bars, restaurants, smoking rooms, pubs, clubs and all other locations, where the Extra efficient removal of cigarette smoke is a top priority.
AirPura T600 Air Filtration System
Oversize 3-inch deep activated carbon filter canister
The core of the AirPura T600 air filtration system is the oversize activated carbon filter canister - similar to the one used in the model C600. It contains a massive amount (26 lbs.) of granulated carbon adsorbent in 3-inch deep canister. Such a huge amount of adsorbent combined with an extended dwelling time in 3-inch deep carbon bed renders the unparalleled adsorption capacity and efficiency in removal from the air of toxic chemical substances in cigarette / tobacco smoke such as: Acetone, Ammonia Benzene, Formaldehyde, Phenol, Toluene, Nicotine and nearly 400 other harmful, toxic chemicals.
HEPA-Barrier Post Filter
The HEPA-Barrier post filter is used in lieu of True HEPA filter to provide an adequate removal of microscopic particles and fine ash in cigarette smoke.
Tar-Barrier Pre Filter
AirPura T600 employs the special Tar-Barrier Pre filter instead of a standard Polyester based one. The Tar-barrier pre filter has a property to trap and hold tar in cigarette / tobacco smoke, thus protecting the air filtration system from faster contamination by sticky cigarette smoke tars.
Non Off-Gassing Filter Compartment Felt Gasket
The AirPura T600 filter compartment is pressure sealed using the non off-gassing felt gaskets. The top and bottom felt gaskets help eliminate the polluted air by-pass and improve the overall air filtration efficiency.
AirPura T600 Motor Fan
AirPura T600 is powered by the same high quality yet energy efficient Motor/Fan assembly with variable speed control rated at 560 CFM.
The one piece Motor/Fan assembly is factory balanced to ensure the vibration and noise-free operation.
The variable speed control allows the AirPura T600 users to select the speed setting that is the most suitable for any particular air cleaning application, activity or a time of the day.
The motor and the electric components are placed in a separate chamber to eliminate the contact with the already filtered air passed the filters and prevent its re-contamination.
The AirPura T600 unit can be equipped with an optional motor and power cord for use with 220-240 Volts, 50 Hz per customer's specification at Extra cost.
AirPura T600 Housing
AirPura T600 features the unified all metal housing - durable and impact resistant.
The appliance quality baked-on powder coating resists scratching, scuffing and stain.
The powder coat is totally inert and produces no toxic off-gassing.
The AirPura T600's 360° Polluted air intake (lower deck of the unit) improves the overall air purifier performance.
The 320° Clean air outlet at the top deck of the unit ensures even clean air distribution.
Clean air outlet in the upper deck of the unit is away from dust and dirt on the floor.
Four Wheel Casters on the bottom panel ensure an easy mobility of the air purifier.
AirPura T600 Manufacturer's Warranty
AirPura T600 air purifier comes with the most comprehensive limited manufacturer's warranty.
It gives the AirPura air purifier owners a peace of mind.
The AirPura T600 Limited Manufacturer's Warranty includes:
5-Year Full Warranty on Parts and Labor.
5-Year additional warranty on Labor (the most expensive part of the total repair cost).
The Total duration of Limited Manufacturer's Warranty - 10 Years.