AirPura T700DLX Extreme Tobacco and Cigarette Smoke air purifier - the upgraded AirPura T700 air purifier features massive amount of AirPura Super Blend specialty adsorbent in oversize canister and a Tar-Barrier pre-filter to achieve the outstanding performance in removal of extreme levels of Tobacco and Cigarette smoke and provide superior protection from exposure to primary and secondhand smoke.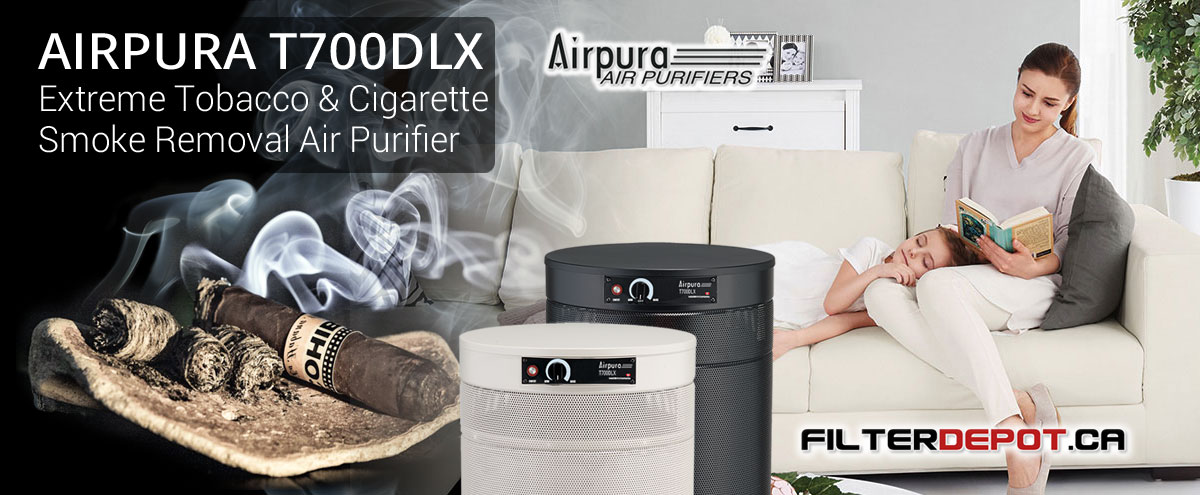 AirPura T700DLX
AirPura T700DLX is More powerful but substantially quieter version of AirPura T600DLX Heavy Tobacco Smoke air purifier.
The centerpiece of AirPura T700DLX is the oversize canister filled with massive amount of Super Blend specially enhanced adsorbent for effective adsorption of chemicals in tobacco smoke.
The AirPura T700DLX Tar-barrier pre filter protects the air filtration system from sticky tars in cigar and cigarette smoke.
AirPura T700DLX is equipped with 15% More powerful yet Twice as Quiet EC (electronically controlled) Motor / Fan.
The AirPura T700DLX variable speed control helps easily find the optimal speed setting in all operating conditions.
The superior air flow rating of 635 CFM makes AirPura T700DLX a perfect choice for purifying air in large areas up to 2300 sq. ft.
AirPura T700DLX features non off-gassing and durable impact resistant the all metal housing.
The appliance quality textured powder coating has an attractive appearance and is available in three colors to match any decor.
AirPura T700DLX is protected by a peace-of-mind 5 / 10 Year limited manufacturer's warranty.
AirPura T700DLX doesn't produce Ozone or any toxic off-gassing and is a chemically inert air purifier.
FREE ground shipping for AirPura T700DLX in Canada and the continental USA.
No US Sales Tax and No Border Crossing fees on AirPura T700DLX purchases.
AirPura T700DLX comes with a 30-Day Money Back Satisfaction guarantee Return policy.
AirPura T700DLX - When to Use?
AirPura T700DLX air purifier cobines impressive air cleaning power with air filtration capacity, which allows the AirPura T700DLX to achieve an outstanding rate of removal of all regular and hard-to-remove dangerous carcinogenic chemicals in a tobacco, cigarette smoke and provide a superior level of protection from primary and a secondhand smoke in large open areas or multiple rooms up to 2300 sq. ft.
Besides from the households with a heavy smokers, the AirPura T700DLX typical applications include:
bars
restaurants
pubs
smoking rooms
tobacco manufacturer's testing facilities
all other locations where the Superior rate of tobacco and cigarette smoke removal is a top priority.
ATTENTION!
Use the AirPura T700 air purifier to deal with milder Tobacco or Cigarette smoke.
AirPura T700DLX Air Filtration System
The AirPura T700DLX air filtration system comprises the following filters.
Oversize 3-inch Deep Filter Canister with Specialty Adsorbent.
The oversize 3" deep filter canister is the core of the AirPura T700DLX air filtration system. It contains an impressive amount (26 lbs.) of carbon based adsorbent enhanced with Special additives. Such a massive amount of adsorbent combined with an extended dwelling time in 3-inch deep carbon bed renders the unparalleled adsorption capacity in removal of all regular and specific carcinogenic chemicals in high concentrations that are present in heavy tobacco, cigar and cigarette smoke.


HEPA-Barrier Post Filter.
To achieve an adequate filtration efficiency in removal of fine ash and dust particles in tobacco smoke, the AirPura T700DLX uses a HEPA-Barrier Post filter. The HEPA-Barrier post filter is a 98% efficiency single layer HEPA-type filter used in the T700DLX to trap sub-micron solid airborne contaminants and fine ash.


Tar-Barrier Pre Filter.
As the first stage of air filtration system AirPura T700DLX employs the special Tar-Barrier Pre filterr instead of a standard Polyester based pre-filter in most other AirPura air purifier models. The Tar-Barrier pre filter has a ability to effectively trap heavy tars in cigarette / tobacco smoke. As such, it plays an important role in protecting the air filtration system of AirPura T700DLX air purifier from faster contamination by sticky tars in heavy tobacco and cigarette smoke.


AirPura T700DLX Motor Fan Assembly
AirPura T700DLX is equipped with the 700 Series 15% More powerful, yet Twice as quiet (compared to 600 series units) energy efficient Motor/Fan with a variable speed control.
The advanced electronically controlled (EC) motor-fan delivers an outstanding air flow of 635 CFM (cubic foot per minute), which guarantees that AirPura T700DLX has a sufficient power to effectively clean air in areas up to 2300 sq. ft. (based on 2 ACH and 8 foot high ceiling).
The factory-balanced single-piece Motor/Fan assembly is factory balanced for vibration and noise-free operation.
The variable speed control gives the AirPura T700DLX users flexibility and convenience of managing the air cleaning performance and level of noise in all situations.
To eliminate the contact of already filtered air with motor and electric components on its way out and prevent its possible re-contamination, the latter are placed in the separate chamber at the top section of the unit.
AirPura T700DLX comes equipped with 110V-120V / 60Hz for North American electric power system as a standard configuration.
The optional 220-240 Volts, 50 Hz motor and power cord is available on demand at Extra cost.
AirPura T700DLX Housing
AirPura T700DLX features the unified throughout the AirPura 700 Series units impact resistant, durable non off-gassing the all metal.
The appliance quality baked-on powder coating available in three colors to match your decor is scratch, scuff and stain resistant, and will retain its attractive appearance for many years to come.
The baked-on powder coating is totally chemically inert and produces no off-gassing.
The 360° Polluted air intake (lower section of the unit) reduces the air flow resistance and helps to improve the overall air purifier performance.
The 360° Clean air outlet at the top deck of the unit ensures an even clean air distribution in the room.
The Clean air outlet in the upper deck of the unit is safely positioned away from dust and dirt on the floor.
The Four Wheel Casters on the bottom panel ensure high level of mobility and maneuverability within the entire cleaning area.
AirPura T700DLX Manufacturer's Warranty
As majority of AirPura models, the AirPura T700DLX comes with the most comprehensive limited manufacturer's warranty.
The Limited Manufacturer's Warranty includes:
5-Year Warranty on Parts.
10-Year warranty on Labor (most expensive part of service cost).
The Total duration of Limited Manufacturer's Warranty - 10 Years.
It gives the AirPura T700DLX owners a peace of mind and promotes a worry-free ownership of AirPura air purifiers.
AirPura T700DLX Replacement Filters
Important Notice!
AirPura T700DLX air purifier ships with all Filters Installed (!) per model specification.