AirPura F700DLX Large Scale Formaldehyde Removal Air Purifier - the proprietary AirPura air purifier employs massive amount of AirPura F700DLX industrial strength adsorbent and more powerful motor / fan to achieve the utmost efficiency in removal of Heavy Formaldehyde in large residential, institutional, commercial and industrial areas under 2300 sq. at.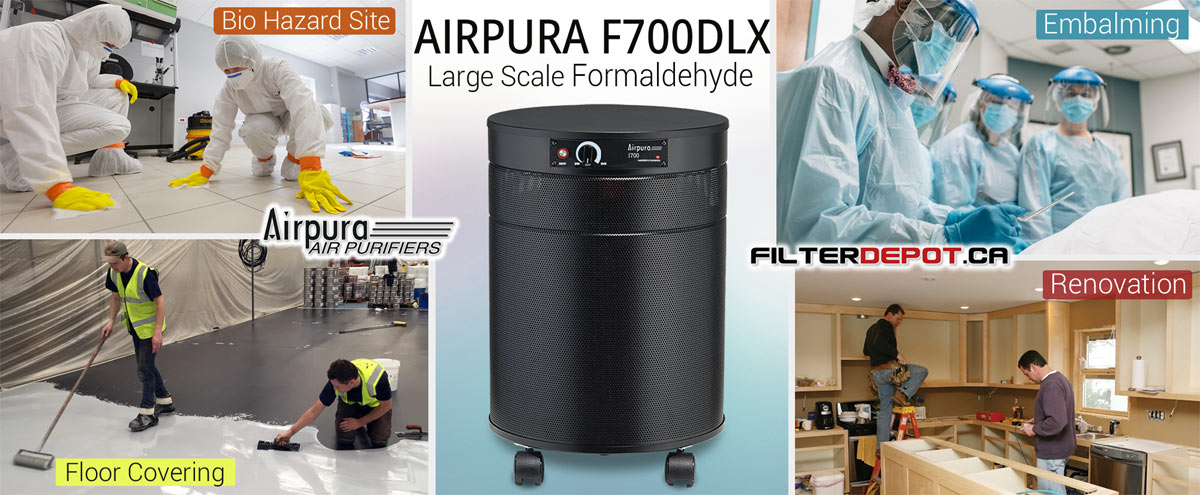 AirPura F700DLX
AirPura F700DLX is the AirPura F600DLX upgrade with 15% More powerful but Twice as Quiet Motor/Fan unit.
The AirPura F700DLX oversize filter canister is filled with massive 26 lbs. of industrial strength formaldehyde adsorbent.
It makes AirPura F700DLX the powerhouse for Large Scale Heavy Formaldehyde removal.
The AirPura F700DLX is powered by electronically controlled (EC) energy efficient and Extra quiet, compact one-piece motor/fan.
The impressive air flow of 635 CFM provides enough power to clean air in large areas up to 2300 sq. at.
The AirPura F700DLX variable speed control provides flexibility in setting the optimal speed for all operating conditions.
AirPura F700DLX features non off-gassing the all metal durable housing with textured baked-on powder coating.
AirPura F700DLX produces no toxic off-gassing, no ozone and is Safe, environment friendly air purifier.
The AirPura F700DLX strongest 5 / 10 Year manufacturer's warranty gives users a peace of mind.
The AirPura F700DLX ships Free by Ground service in continental US and Canada.
There are No US Sales Tax and No Border fees on AirPura F700DLX purchases.
AirPura F700DLX comes with a 30-Day Money Back Satisfaction guarantee Return policy (some conditions apply).
AirPura F700DLX - When to Use ?
AirPura F700DLX Large Scale Formaldehyde removal air purifier is a specialty AirPura air purifier that offers an effective solution in situations related to elevated or extreme levels of formaldehyde, VOCs and other specific toxic chemicals.
The AirPura F700DLX typical applications include:
New constructions or renovation projects
Bio hazard site remediation
Embalming
Anatomic pathology labs
Formaldehyde-based resin industries
Container cleaning services
Warehouse air filtration
Print shops
Furniture and woodworking shops
Dental cabinets
Animal clinics
Pesticide removal
AirPura F700DLX Air Filtration System
Oversize 3-inch deep Filter Canister with Industrial Strength Formaldehyde Adsorbent.
The massive amount (26 lbs.) of Industrial Strength specialty adsorbent in a 3-inch deep oversize canister is what sets the AirPura F700DLX apart from other AirPura models. The industrial strength formaldehyde adsorbent is a blend of 65% of activated carbon with remaining 35% of special additives, including potassium permanganate, potassium iodide, etc. This blend significantly improves the adsorption capacity of AirPura F700DLX in removal of Formaldehyde, VOCs and other specific chemicals in very high concentrations.
Important Notice!
Due to a substantial amount of additives in the air filtration system that release their own smell, the AirPura F700DLX is Not recommended for use by individuals with MCS (Multiple Chemical Sensitivity).


HEPA-Barrier Post Filter.
The oversize filter canister doesn't leave enough room in the AirPura F700DLX filter compartment for placement of a standard size True HEPA filter. Therefore, to provide an adequate air filtration from most common allergens and dust the 98% @ 1 μ efficiency HEPA-Barrier filter is used instead.


Pre Filter.
Standard Polyester based Pre-filter (the first stage of the air filtration system) is used in AirPura F700DLX to trap most of the large visible dust and dirt particles. Thus it protects main filters from faster contamination and helps extend their lifetime.
The optional unbleached Pesticide-free Cotton pre-filter is available for concerned air purifier users at Extra cost.
AirPura F700DLX Motor Fan Assembly
AirPura F700DLX is equipped with the upgraded 15% more powerful, yet Twice as quiet (compared to AirPura F600DLX) energy efficient Motor/Fan with variable speed control rated at 635 CFM (cubic foot per minute) of air flow.
The more powerful motor/fan improves the air purification performance and provides better coverage of up to 2300 sq. at. at 2 ACH (air changes per hour).
The factory balanced one-piece Motor/Fan assembly ensures vibration and noise-free operation.
The variable speed control allows the AirPura F700DLX users to easily select the most suitable speed setting for any particular air cleaning application or household activity.
The motor and electric components placed in a separate chamber in the top section of the unit eliminate the contact with the already filtered air and prevent its re-contamination.
AirPura F700DLX comes from the factory equipped with 110V-120V, 60Hz motor and power cord for North American electric power system.
The optional motor and power cord for use with 220-240 Volts, 50 Hz power system is available upon customer's request at Extra cost.
AirPura F700DLX Housing
AirPura F700DLX housing is the unified throughout the AirPura lineup durable, impact resistant the all metal body.
The appliance quality baked-on powder durable coating is scratch, scuff and stain resistant.
It is available in three textured color finishes to match any decor and will retain its attractive original appearance for many years to come.
The powder coating is totally chemically inert and produces no toxic off-gassing.
The 360° polluted air intake (lower section of the unit) help greatly improve the overall air purifier performance.
The 360° clean air outlet at the top deck of the unit is placed away from dust and dirt on the floor and ensures even clean air distribution.
The Four Wheel Casters on the bottom plate provide an easy mobility and maneuverability of the AirPura F700DLX air purifier even in tight spaces.
AirPura F700DLX Manufacturer's Warranty
AirPura F700DLX air purifier comes with the most comprehensive in the industry limited manufacturer's warranty.
The Limited Manufacturer's Warranty includes:
5 Years on Parts and Labor.
10 Years on Labor (the more expensive part of repair cost).
AirPura F700DLX Replacement Filters
Important Notice!
AirPura F700DLX air purifier ships with all Filters installed per model specification.