AirPura V600 VOC removal air purifier is an upgraded AirPura air purifier with AirPura V600 special VOC adsorbent in the AirPura large filter canister to ensure fast and effective removal of VOCs and Specific chemicals in large areas up to 2000 sq. ft.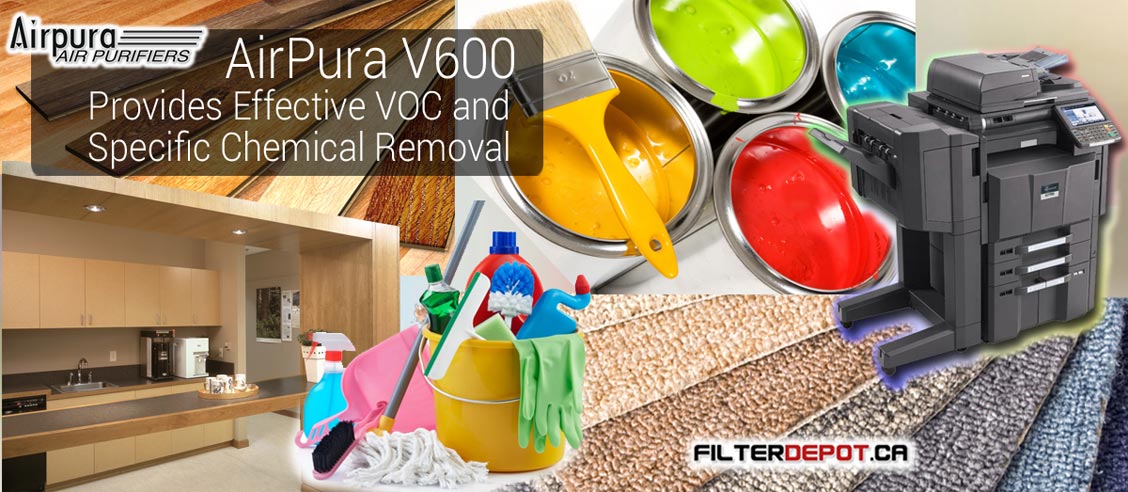 AirPura V600 / V614
AirPura V600 features the High-Efficiency 3-Stage True HEPA and VOC Carbon Air Filtration system.
The AirPura V600 specialty adsorbent effectively eliminates VOCs, ammonia and other toxic chemical substances.
AirPura V600 is equipped with a powerful yet energy efficient and quiet single piece Motor/Fan assembly.
The AirPura V600 variable speed control allows to set the optimal air flow in all situations.
AirPura V600 delivers an impressive air flow of 560 CFM and cleans effectively large areas up to 2000 sq. ft.
AirPura V600 features non off-gassing the all metal housing with durable baked on appliance finish coating.
The AirPura V600 10-Year manufacturer's warranty gives the owners a peace of mind.
AirPura V600 doesn't produces any Ozone and doesn't release any toxic off-gassing.
AirPura V600 ships Free by Ground service in US and Canada with No US Sales Tax and No Border fees.
AirPura V600 comes with 30-Day Money Back Satisfaction Guarantee Return policy (some conditions apply).
AirPura V600 - When to Use ?
The AirPura V600 air purifier excels in trapping all allergens and dust and in enhanced removal of VOCs and Toxic chemicals released by:
New furniture
New carpeting or flooring
Wildfires
Pesticides
VOG (Volcanic Smoke and Gases)
Fresh paint vapors
Varnish, lacquer
Oil paints
Off-gassing from office machines
Household cleansers
Perfumes
etc.
AirPura V600 Air Filtration System Comprises:
Large Long lasting True HEPA Filter
AirPura V600 employs the same large 99.97% efficiency True HEPA filter that captures all microscopic airborne contaminants down to 0.3 micron in size to provides a superior level of protection from all microscopic dust and allergens, such as: mold spores, plant spores, pollen, house dust mites and debris, lung damaging dust, pet dander, bird feather dust, microscopic ash particles in cigarette smoke and smoke from wood burning stove, etc.


Optional 99.99% Efficiency Super HEPA Filter
The optional 99.99% efficiency Super HEPA filter can be used in the model AirPura V600 instead of the standard True HEPA filter to further improve the air filtration efficiency of the AirPura V600 in trapping sub-micron allergens and dust. The AirPura V600 equipped with the optional Super HEPA filter has a designated model number AirPura V614.


To get the AirPura V600 air purifier equipped with a Super HEPA filter in the "HEPA FILTER" pull-down menu select the option Super HEPA filter.


Large Chemical Filter with Super Blend VOC Adsorbent
AirPura V600 air purifier features separate chemical and odor filter canister with large amount (18 lbs.) of AirPura Specially Enhanced Super Blend VOC adsorbent. The activated carbon blend with special additives is formulated to provide an enhanced removal of VOCs, ammonia, formaldehyde and most other specific chemicals.
Important Notice!
The AirPura V600 Super Blend VOC adsorbent contains the special additive Potassium Iodide known for releasing its own slight odor. Although it doesn't affect the absolute majority of air purifier users, some individuals with elevated or multiple chemical sensitivity (MCS) may experience a feeling of discomfort or some irritation. Such individuals are advised to use the models with regular activated carbon adsorbent such as AirPura R600, or AirPura G600 and AirPura G600DLX models equipped with Certified Odorless German carbon.


Large Pre-filter
Standard Polyester based Pre-filter represents the first stage of the AirPura V600 air filtration system. The Pre-filter effectively traps most of larger visible dust and dirt particles to provide protection to fine True HEPA filter from faster contamination and extend its lifetime.


Germicidal UV Bulb (optional)
The customers, who are looking for added superior level of protection from airborne pathogens: microbes, bacteria, germs, fungi, etc. can have their AirPura V600 units equipped with optional High-output Germicidal UV Bulb. The Germicidal UV Bulb is the most effective and speedy way to sterilize the air from airborne pathogens: viruses, microbes, bacteria, germs, mold spores. Select the UV Bulb option from the Ultraviolet (UV) Bulb pull-down menu.


Non Off-Gassing Felt Gaskets
The AirPura V600 features top and bottom Felt Gaskets. Felt gaskets pressure seal the filter chamber and eliminate polluted air by-pass for increased performance and the overall air filtration efficiency. The use of felt gaskets instead of common closed-cell rubber gaskets helps eliminate toxic off-gassing from the air purifier.
Important Notice!
AirPura V600 air purifier is sold and shipped Fully assembled with all standard or optional Filters installed (per model specification).
AirPura V600 Motor Fan Assembly
AirPura V600 employs the same powerful, yet energy efficient Motor/Fan unit with a variable speed control rated at 560 CFM. The variable speed control allows AirPura users to set the optimal air flow by selecting the speed setting that is the most suitable for any particular air cleaning application, the activity or a time of the day.
The AirPura V600 one piece Motor/Fan assembly is factory balanced to ensure the vibration and noise-free operation.
The compact design of a motor / fan unit allows for placement of larger filters and makes the unit more compact.
The motor and the electric components are placed in AirPura V600's separate chamber at a top deck. This allows to make sure that clean air doesn't get in contact with the air purifier components and prevents its re-contamination.
AirPura V700 Upgrade
NEED MORE POWERFUL AIRPURA V600 WITH BETTER COVERAGE AND A WHISPER QUIET OPERATION?
Upgrade to the AirPura V700 unit equipped with 15% More powerful and Twice as quiet the EC (Electronically Controlled) Motor/Fan.
AIRPURA MODEL
V600
V614
V700
V714
Air Flow Rating (CFM) (open air)

560
560
635
635
Maximum Cleaning Area, sq. ft.

2000
2000
2280
2280
Level of Noise, dB (on Low @ 6 ft.)

39.9
39.9
30.2
30.2
HEPA Filter

True HEPA
99.97% @ 0.3µ
Super HEPA
99.99% @ 0.3µ
True HEPA
99.97% @ 0.3µ
Super HEPA
99.99% @ 0.3µ
Click here AirPura V700 to upgrade to the AirPura V700 or AirPura V714 equipped with the Super HEPA filter.
Please note, both AirPura V600 and AirPura V700 models (V614 and V714 respectively) share the same HEPA, carbon canister and pre-filters.
AirPura V600 Power Supply Options
The AirPura V600 (V614) air purifier comes equipped with the motor and power cord for 110V-120V, 60Hz power supply system in North America (Canada, USA, Mexico).
The optional motor and power cord for 220-240V, 50Hz power supply is available for overseas customers at Extra cost. The type of electric plug can be specified in the Comments box of the Shopping Cart.
AirPura V600 Durable the All Metal Housing
AirPura V600 features the unified durable and impact resistant the all metal housing design.
The appliance quality baked-on powder coat resists scratching, scuffing and stain.
It doesn't produce any off-gassing and will retain its original appearance for many years.
The AirPura V600's perforated 360° Polluted air intake and 320° Clean air outlet ensure unobstructed air flow through the air filtration system and improve the overall air purifier performance.
To ensure high level of mobility, the AirPura V600 is equipped with four swivel Wheel Casters on the bottom panel.
AirPura V600 Manufacturer's Warranty
As all AirPura air purifiers, the AirPura V600 model comes with the most comprehensive limited manufacturer's warranty.
It includes:
5-Year Full Warranty on Parts and Labor.
Additional 5-Year warranty on Labor (the more expensive portion of the total repair cost).
The Total duration of Manufacturer's Limited Warranty - 10 Years.
AirPura V600 Replacement Filters
Important Notice!
AirPura V600 air purifier comes with all Filters installed per model specification.