AirPura UV600 Pathogen control air purifier features the AirPura High-output Germicidal UV (Ultra Violet) bulb. The premium sterilization power of UV bulb enables the AirPura UV600 to deliver a Superior level of protection against airborne pathogens and antigens, while the AirPura UV600 True HEPA and Carbon air filtration system provides effective and speedy removal of all allergens, dust, regular chemicals, odors and cigarette smoke.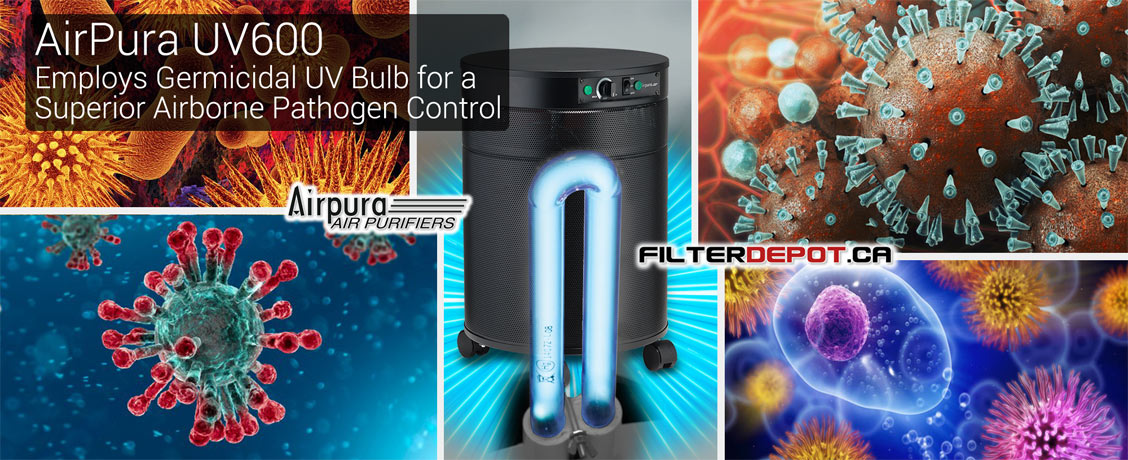 AirPura UV600 Highlights:
AirPura UV600 employs the High-output Germicidal UV bulb for effective airborne pathogen control.
The HEPA and Carbon filters make AirPura UV600 very effective in removal of all allergens and most chemicals.
The AirPura UV600 features the energy efficient, vibration-free a one-piece motor/fan assembly.
The variable speed control allows AirPura UV600 to deliver the optimal air flow in all situations.
AirPura UV600 delivers a superior air flow of 560 CFM and cleans effectively areas up to 2000 sq. ft.
AirPura UV600 features non off-gassing the all metal housing with a durable powder coat.
AirPura UV600 doesn't produce ozone or any toxic off-gassing.
The AirPura UV600 is protected by a 5 / 10 Year limited manufacturer's warranty.
AirPura UV600 ships Free by Ground service in Canada and the continental USA.
There are No US Sales Tax and No Border Crossing on AirPura UV600 purchases.
AirPura UV600 comes with a 30-Day Money Back Satisfaction Guarantee Return policy.
AirPura UV600 Air Purifier - When to Use ?
Use AirPura UV600 air purifier to achieve a superior level of protection from airborne pathogens: microbes, bacteria, viruses, germs and an effective no-compromise air purification performance in combined removal of allergens, dust, chemicals and odors in large homes, offices or workplace areas up to 2000 sq. ft.
AirPura UV600 Air Filtration System:
Standard 2-inch deep True HEPA filter traps from the air over 99.97% of all microscopic airborne contaminants down to 0.3 micron in size to provide a superior level of protection from lung damaging dust and allergens, including but not limited to: mold spores, plant spores, pollen, house dust mites and debris, lung damaging dust, pet dander, bird feather dust, microscopic ash particles in cigarette smoke and smoke from wood burning stove, etc.
Optional 2-inch Deep 99.99% efficiency Super HEPA filter is available instead of 99.97% efficiency True HEPA filter for a further improved air filtration efficiency of sub-micron allergens and lung-damaging dust. The designated model number with Super HEPA filter is UV614.
Standard 2-inch deep Chemical an Odor Filter canister contains massive amount (18 lbs.) of regular activated carbon adsorbent (choice of coconut shell or anthracite carbon) in a separate filter canister to ensure fast and effective removal from the air of all regular chemicals and odors such as: cuisine odors, pet odors, chemicals in cigarette smoke, smoke from wood burning stove, household chemicals, and many more.
High Output Germicidal UV bulb
As a standard equipment AirPura UV600 features the 20-Watt High-Output Germicidal UV Bulb. The UV light provides the most speedy and effective sterilization of the air from all airborne pathogens. The sterilization power of the Germicidal UV light is 1,600 times of a direct sunlight, and therefore is extremely lethal to airborne pathogens: viruses, bacteria, microbes, germs fungi, etc.
The UV bulb has a separate On/Off switch with indicator light, which allows to operate the UV bulb independently.
Standard Polyester based Pre-filter (the first stage of the air filtration system) traps most of larger visible dust and dirt particles to protects fine True HEPA filter from faster contamination and extend its lifetime.
Optional Unbleached Pesticide-free Cotton pre-filter
The optional unbleached pesticide-free cotton pre-filter is available for concerned individuals with elevated or Multiple chemical sensitivity.
AirPura UV600 Motor Fan Assembly
AirPura UV600 employs powerful, yet energy efficient Motor/Fan unit with variable speed control rated at 560 CFM.
The air flow delivered by the AirPura UV600 is 40% higher than for most other air purifiers in the same category.
The variable speed control allows the user to set the optimal air flow by selecting the speed setting that is the most suitable for any particular air cleaning application, activity or a time of the day.
One piece Motor/Fan assembly is factory balanced to ensure the vibration and noise-free operation.
The compact design of a motor / fan unit leaves more room for placement of larger filters.
The motor and electric components are placed in a separate chamber to eliminate the contact with the already filtered air passed the filter thus prevent its re-contamination.
AirPura UV600 Housing
AirPura UV600 features durable, impact resistant the all metal housing design.
The appliance quality baked-on powder coat resists scratching, scuffing and stain.
The powder coat is totally inert and produces no toxic off-gassing.
The 360° Polluted air intake (lower deck of the unit) improves the overall air purifier performance.
The 320° Clean air outlet at the top deck of the unit ensures even clean air distribution.
Clean air outlet in the upper deck of the unit is away from dust and dirt on the floor.
Four Wheel Casters on the bottom panel ensure an easy mobility of the air purifier.
AirPura UV600 Manufacturer's Warranty
AirPura UV600 air purifier comes with the most comprehensive limited manufacturer's warranty.
The Limited Manufacturer's Warranty includes:
5-Year Full Warranty on Parts and Labor.
5-Year additional warranty on Labor (the more expensive part of the total repair cost).
The Total duration of Limited Manufacturer's Warranty - 10 Years.