AirPura P600 air purifier combines the AirPura version of Photocatalytic oxidation process with an exceptional sterilization power of AirPura P600 Germicidal UV bulb and the proven efficiency of AirPura True HEPA and Carbon air filtration system to achieve the most comprehensive protection from VOCs, specific chemicals and airborne pathogens along with superior level of allergens, dust and chemicals removal.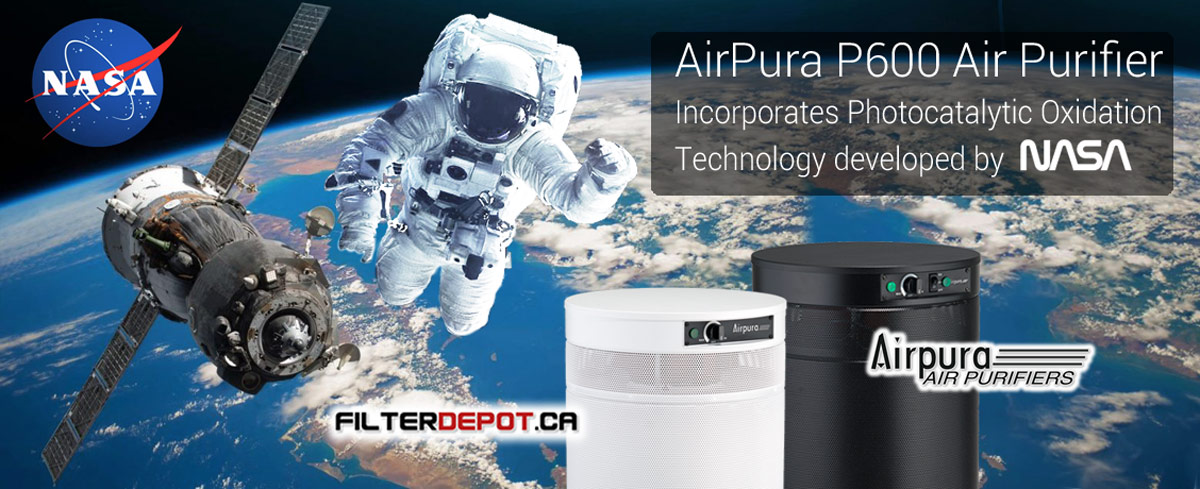 AirPura P600 / P614
AirPura P600 employs the High-Efficiency 3-Stage True HEPA and Carbon Air Filtration system.
AirPura P600 incorporates the advanced Photocatalytic Oxidation air purification technology developed by NASA.
AirPura P600 is equipped with a powerful and energy efficient vibration-free motor/fan assembly.
AirPura P600 features a variable speed control for fine tuning the optimal air flow in all situations.
The AirPura P600 superior air flow of 560 CFM makes the P600 highly effective in cleaning areas up to 2000 sq. ft.
Upgrade to AirPura P700 equipped with 15% more powerfull EC motor/fan and Twice as quieter operation.
AirPura P600 features non off-gassing the all metal housing with durable baked-on powder coating.
The AirPura P600 10-Year manufacturer's warranty is one of the strongest in the industry.
All AirPura P600 parts and components produce no toxic off-gassing.
AirPura P600 ships FREE by Ground service in US and Canada. No US Sales Tax and No Border fees.
AirPura P600 is covered by a 30-Day Money Back Satisfaction Guarantee Return policy.
AirPura P600 - When to Use?
Use the AirPura P600 air purifier to achieve the best overall protection from all unwanted dangerous air pollutants and air contaminants, including but not limited to:
Mold and plant spores, Pollen
Dust mites, Pet dander
Lung damaging dust
Bird feather dust
Asbestos dust
Bacteria, Microbes, Viruses, Germs
VOCs, Formaldehyde, ammonia
Radon, Carbon monoxide
Pesticides, PCBs
Butanol, Toluene
Sulfur dioxide, Chloroform, etc.
VOG (volcanic smoke and gases)
AirPura P600 Air Filtration System
Large Standard 2-inch deep True HEPA filter.
The AirPura P600 large True HEPA filter traps from the air over 99.97% of all microscopic airborne contaminants down to 0.3 micron in size to provide a superior protection from lung damaging dust, allergens, including but not limited to: mold spores, plant spores, pollen, house dust mites and debris, lung damaging dust, pet dander, bird feather dust, microscopic ash particles in cigarette smoke and smoke from wood burning stove, etc.


Optional Super HEPA Filter - Model P614
The AirPura P600 model is also available with Optional 99.99% @ 0.3µ efficiency Super HEPA filter instead of the standard 99.97% @ 0.3µ efficiency True HEPA filter at Extra cost. The Super HEPA filter has a higher filtration efficiency in trapping sub-micron allergens and lung damaging dust, and therefore offers a superior level of protection to individuals with respiratory problems and illnesses. The AirPura P600, P700 models equipped with a Super HEPA filter have designated model numbers Airpura P614.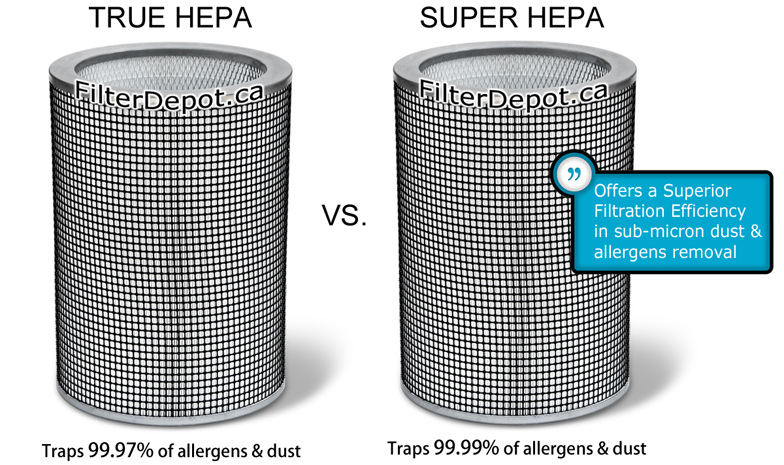 To get the AirPura P614 air purifier equipped with a Super HEPA filter select the Super HEPA filter in the "HEPA FILTER" pull-down menu.
Standard 2-inch deep Carbon Filter canister.
The AirPura P600 carbon filter canister contains large amount (18 lbs.) of regular activated carbon adsorbent (choice of coconut shell or anthracite). Such a large amount of adsorbent and an extended dwelling time of 2-inch deep carbon bed ensure fast and effective removal from the air of all regular chemical substances and noxious odors such as: cuisine odors, pet odors, musty basement odors, chemicals in cigarette smoke, smoke from wood burning stove. household chemicals, and many more.


Standard Polyester based Pre-filter.
The standard Polyester based pre-filter is the first stage of AirPura P600 air filtration system. The pre-filter traps most of larger visible dust and dirt particles to protect fine True HEPA filter from faster contamination and extend its lifetime.


Optional Unbleached Pesticide-free Cotton pre-filter.
The optional unbleached pesticide-free pre-filter is available in AirPura P600 to meet the requirements of concerned AirPura air purifier users and individuals with elevated or multiple chemical sensitivity.


Non Off-Gassing Felt Gaskets
The AirPura P600 features the top and bottom Felt Gaskets. The Felt gaskets pressure seal the filter chamber. They help eliminate the polluted air by-pass and increase the overall air filtration efficiency. The felt gaskets in lieu of commonly used closed-cell rubber gaskets also help minimize the toxic off-gassing.
Photocatalytic Oxidation Unit
Initially developed by NASA for the purpose of maintaining toxin free air at the space stations, the Photocatalytic Oxidation process is the most effective and speedy way to deal with hard to remove specific chemical substances and compounds, including VOCs, formaldehyde, ammonia, carbon monoxide, carbon dioxide, radon, toluene, sulfur oxide, and many other specific chemicals.
The Photocatalytic Oxidation process occurs when the Titanium Dioxide (TiO2) surface is exposed to the UV light. The Photocatalytic oxidation process works by breaking down the complex chemical compounds into simpler shorter chemicals. The process repeats itself again and again until only basic chemicals remain, which can be easily removed by regular activated carbon adsorbent or dissipate in the air.
The Photocatalytic Oxidation Unit consists of two components:
1.

TitanClean™ Titanium Dioxide Reflector
TitanClean™ Titanium dioxide reflector is an essential component of the Photocatalytic Oxidation process in AirPura P600 air purifier. Exposure of the Titanium dioxide surface to the UV light activates the Photocatalytic oxidation process, which guarantees the most effective and speedy abatement of hard to remove stubborn specific chemicals.
2.

High Output Germicidal UV Bulb
Germicidal UV bulb, aside from being essential component of the Photocatalytic Oxidation process incorporated in the AirPura P600 air purifier. plays another important role. Germicidal UV bulb provides the most effective and speedy sterilization of the air from airborne pathogens. The sterilization power of Germicidal UV light is 1,600 times of a direct daylight, and therefore is extremely lethal to airborne pathogens: viruses, bacteria, microbes, germs, fungi, mold spores, etc.
Airborne Pathogen Reduction Rates due to Exposure to UV Light.
CATEGORY
PATHOGENS
RATE of REDUCTION
VIRUSES
SARS Virus
> 99.99%
Ebola Virus
94.36%
Yersinia Pestis (Plague)
96.68%
Variola (Smallpox)
95.69%
BACTERIA
Escherichia Coli (E.Coli)
> 99.99%
Staphylococcus Epidermis
89.7%
Bacillus Anthrax
61.68%
Mycobacterium Tuberculosis
> 99.99%
MOLD, FUNGUS
Penicillium Citrinum
99.7%
Aspergillus Niger
95.9%
The above results are provided for the AirPura P600 operating at airflow 50 CFM (cubic foot per minute).

Although, the Germicidal UV bulb produces a bare minimum amount of ozone as a by-product, and therefore is the safest among all types of UV bulbs for residential and office use, the individuals with elevated or multiple chemical sensitivity (MCS) may experience a feeling of discomfort or some irritation in the presence of ozone even in very small concentration.
For that reason, such individuals are advised to exercise caution while using the unit equipped with the UV bulb, such as turning the UV light On for a limited period of time or in a temporarily unoccupied room.

AirPura P600 Motor Fan Assembly
AirPura P600 is powered by the same high quality, energy efficient Motor/Fan unit with variable speed control.
It is rated at 560 CFM which is 40% higher than for most other air purifiers in the same category.
The variable speed control allows the user to set the optimal air flow by selecting the speed setting that is the most suitable for any particular air cleaning application, activity or a time of the day.
One piece Motor/Fan assembly is factory balanced to ensure the vibration and noise-free operation.
The motor and electric components are placed in a separate chamber to eliminate the contact with the already filtered air passed the filter thus prevent its re-contamination.
The AirPura P600 can be equipped with optional motor/fan and power cord for use with 220-240 Volts, 50 Hz power supply per customer's specification at Extra cost.
AirPura P700 Upgrade.
GET AIRPURA P700 WITH BETTER COVERAGE AND A TRULY WHISPER QUIET MOTOR/FAN.
Upgrade AirPura P600 / P614 to 15% More powerful yet Twice as quiet the AirPura P700 / 714 model equipped with EC (Electronically Controlled) Motor/Fan.
This upgrade renderers the following benefits and advantages:
AIRPURA MODEL
P600
P614
P700
P714
Air Flow Rating (CFM) (open air)

560
560
635
635
Maximum Cleaning Area, sq. ft.

2000
2000
2280
2280
Level of Noise, dB (on Low @ 6 ft.)

39.9
39.9
30.2
30.2
HEPA Filter

True HEPA
99.97% @ 0.3µ
Super HEPA
99.99% @ 0.3µ
True HEPA
99.97% @ 0.3µ
Super HEPA
99.99% @ 0.3µ
AirPura P600 Housing
AirPura P600 features a unified for the AirPura 600 Series lineup durable, impact resistant the all metal housing made out of perforated steel.
The appliance quality baked-on powder coating is scratch, scuff and stain resistant.
The AirPura P600 metal housing with powder coating is totally inert and produces no toxic off-gassing.
The 360° Polluted air intake (lower deck of the unit) and 360° Clean air outlet at the top deck of the unit improve the overall air purifier performance and reduce noise.
Clean air outlet in located at the upper deck of the unit away from dust and dirt on the floor.
Four Wheel Casters on the bottom panel ensure an easy mobility of the air purifier.
AirPura P600 Manufacturer's Warranty
AirPura P600 air purifier comes with the most comprehensive limited manufacturer's warranty.
It gives a peace of mind to AirPura air purifier owners.
The AirPura P600 Limited Manufacturer's Warranty includes:
5-Year warranty on Parts.
10-Year warranty on Labor.
AirPura P600 Replacement Filters
Important Notice!
AirPura P600 air purifier ships with all Filters installed per model specification.