AirPura G600DLX is the AirPura G600 air purifier upgraded with AirPura G600DLX oversize canister filled with German Odorless carbon to ensure a superior level of chemical adsorption while being the most chemically inert. AirPura G600DLX capitalizes on the AirPura chemically inert concept with addition of the AirPura G600DLX massive amount of German Odorless Carbon.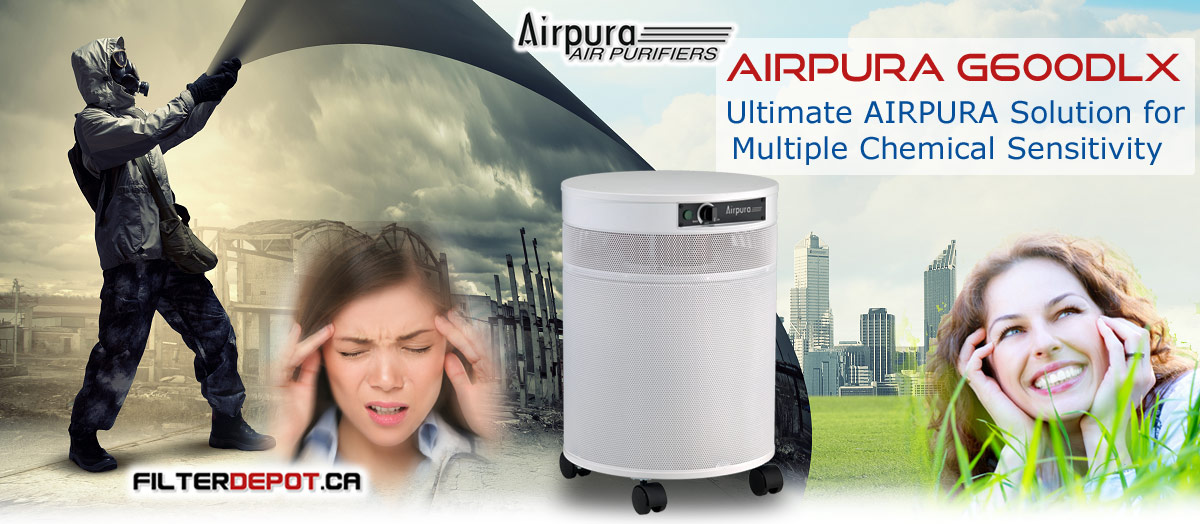 AirPura G600DLX
AirPura G600DLX employs a massive (26 lbs) amount of German Odorless Carbon in AirPura oversize filter canister.
AirPura G600DLX offers the AirPura optional odorless unbleached Pesticide-free Cotton pre-filter.
AirPura G600DLX is powered by the energy efficient and quiet one-piece motor/fan unit.
The AirPura G600DLX variable speed control offers a flexibility of selecting the optimal air flow in all conditions.
AirPura G600DLX delivers a superior air flow of 560 CFM and can clean effectively large areas up to 2000 sq. ft.
AirPura G600DLX features non off-gassing the all Metal housing with a durable appliance quality powder coating.
The AirPura 700DLX available upgrade boosts the Air Flow and ensures a Whisper quite operation.
AirPura G600DLX carries a comprehensive 5-Year Part / 10-Year Labor limited manufacturer's warranty.
AirPura G600DLX doesn't produce any ozone or toxic off-gassing and is totally chemically inert.
AirPura G600DLX ships Free by Ground service in the continental USA and in Canada.
There are No US Tax and No Border Crossing fees on AirPura G600DLX purchases.
AirPura G600DLX comes with a 30-Day Money Back Satisfaction guarantee Return policy.
AirPura G600DLX - When to Use?
AirPura G600DLX Air Purifier is an indispensable air purifier when it comes to creating and maintaining the Chemical-Free environment for individuals with Hyper Chemical or Multiple Chemical Sensitivity in large home, office or institutional areas up to 2000 sq. ft.
AirPura G600DLX Air Filtration System
Oversize 3-inch deep Filter Canister with Certified Odorless German Carbon.
The core of the AirPura G600DLX air filtration system is the oversize carbon filter canister. It contains a massive amount (26 lbs.) of Kosher and Halal Certified German Odorless Carbon adsorbent. This G600DLX exclusive Carbon is totally chemically inert and therefore safe for use in air purifiers for individuals with Multiple Chemical Sensitivity symptoms. The huge amount of adsorbent along with the extended dwelling time in 3-inch deep carbon bed ensures a superior level of chemical adsorption.


HEPA-Barrier Post Filter.
The AirPura G600DLX HEPA-Barrier post filter is standard in all AirPura models with oversize carbon filter canister and delivers an adequate filtration of the air from most common allergens and dust.


Cotton Pre Filter (optional).
To achieve the status of being as much Chemically inert as possible, the AirPura G600DLX offers the Airpura optional unbleached Pesticide-free cotton pre-filter. It traps most of larger dust and dirt particles, while providing protection to the AirPura G600DLX air filtration system from faster contamination.
AirPura G600DLX Motor Fan Assembly
AirPura G600DLX is equipped with the same powerful, yet energy efficient backward impeller Motor/Fan paired with a variable speed control rated at 560 CFM.
As a part of the AirPura initial chemically inert concept design, the motor, wiring and electric components are isolated in the separate chamber to prevent the already purified air getting in contact with these components and avoid possible re-contamination.
The one-piece Motor/Fan assembly is factory balanced to ensure a vibration and noise-free operation.
The variable speed control offers the AirPura G600DLX users a convenience of selecting the speed setting that is the most suitable for any particular application, activity or a time of the day.
The AirPura G600DLX comes equipped with 110V-120V/60Hz motor and power cord for North American electric power system.
However, the customers can opt for the optional 220-240 Volts, 50 Hz Motor and Power cord at Extra cost.
AirPura G700DLX Unit Upgrade.
WANT MORE POWERFUL YET MUCH QUIETER AIRPURA G600DLX ?
Upgrade to AirPura G700DLX equipped with the 700 Series EC (Electronically Controlled) Motor/Fan to get 15% Better coverage and Twice as quiet operation.
| | | |
| --- | --- | --- |
| AIRPURA MODEL | G600DLX | G700DLX |
| Air Flow Rating (CFM) (open air) | 560 | 635 |
| Maximum Cleaning Area, sq. ft. | 2000 | 2280 |
| Level of Noise, dB (on Low @ 6 ft.) | 39.9 | 30.2 |
AirPura G600DLX Housing
AirPura G600DLX features the AirPura unified non off-gassing the all metal durable, impact resistant housing.
The appliance quality baked-on powder coating resists scratching, scuffing and stain.
The powder coat is totally inert and produces no toxic off-gassing.
The 360° Polluted air intake (lower deck of the unit) and 360° Clean air outlet at the upper deck of the unit improves the overall air purifier performance and helps reduce noise.
The Four Wheel Casters on the G600DLX bottom panel ensure an easy mobility of the air purifier within the cleaning area.
The non off-gassing nylon wheel casters contribute into the overall chemically inert design of the AirPura G600DLX.
AirPura G600DLX Manufacturer's Warranty
AirPura G600DLX air purifier carries the most comprehensive limited manufacturer's warranty.
The Limited Manufacturer's Warranty includes:
5-Year Full Warranty on Parts.
10-Year Warranty on Labor.
The Total duration of Limited Manufacturer's Warranty - 10 Years.
AirPura G600DLX - What's in the Box
AirPura G600DLX air purifier comes from the factory:
Brand New and Fully assembled.
All filters are installed (per model specification).
Unit is Ready-to-use (unpack and plug it in).
No installation required (unless installed on optional wall mount bracket)
AirPura G600DLX Replacement Filters
Important Notice!
AirPura G600DLX air purifier ships with all Filters installed per model specification.