Amaircare 3000 is an evolutionary Amaircare 3000 portable air purifier equipped with Amaircare Easy-Twist True HEPA filter instead of a molded HEPA filter in the Amaircare 3000 original model and a new digital Touch pad control. The Amaircare 3000 upgrades render an improved air filtration efficiency, quieter operation, simplified HEPA filter replacement procedure and enhanced comfort in operation.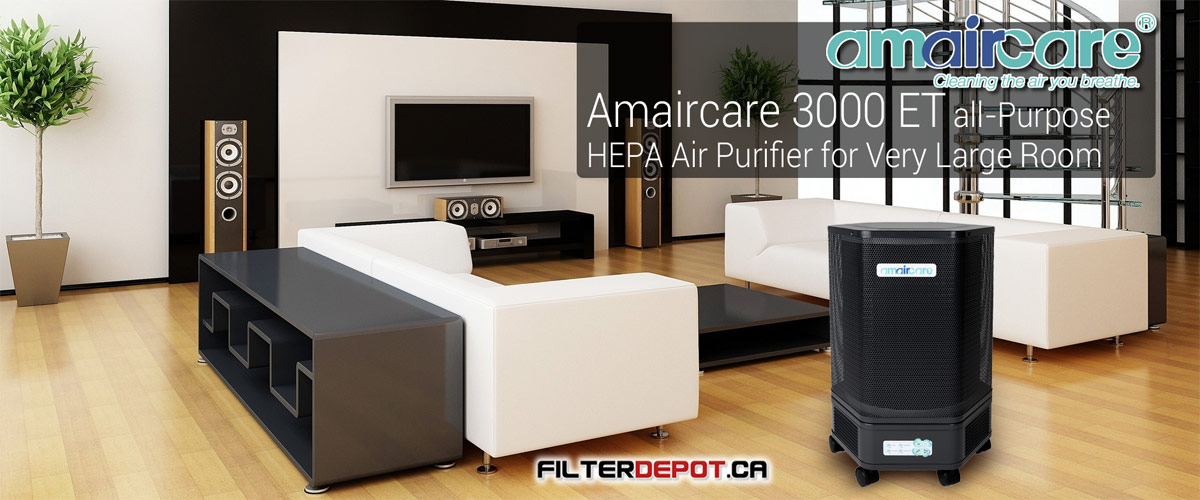 Amaircare 3000 / 3000 ET
Amaircare 3000 features a Jumbo-size HEPA filter with Huge amount (100 sq. ft.) of medical grade True HEPA filter media.
The Amaircare 3000 True HEPA filter traps nearly 100% of all allergens and dust and lasts for up to 5+ years.
The Amaircare 3000 Easy-Twist proprietary HEPA filter design completely eliminates a polluted air by-pass.
Amaircare 3000 features the new 3-Speed Touch Pad control with Filter Monitor lights for each filter.
The Amaircare 3000 energy efficient, powerful and quiet one-piece motor/fan assembly makes the Amaircare 3000 effective for cleaning areas up to 844 sq. ft.
Amaircare 3000 employs durable, non off-gassing the all metal housing with appliance finish baked on powder coat.
Amaircare 3000 doesn't produce any ozone or toxic off-gassing and is totally safe for individuals with multiple chemical sensitivity (MSC).
Amaircare 3000 Ships FREE by Ground service in Canada and continental USA.
No US Sales Tax on the Amaircare 3000 purchases, No Border crossing charges and No Other fees.
Amaircare 3000 comes with a 30-Day Money Back Satisfaction Guarantee Return policy (some conditions apply).
Amaircare 3000 - When to Use?
Amaircare 3000 air purifier is equipped with a high efficiency 3-stage True HEPA and Activated carbon air filtration system. It makes Amaircare 3000 an excellent air purifier for cleaning the air from all airborne allergens, dust, airborne pathogens (microbes, bacteria, viruses, germs), over 4000 chemical substances and noxious odors in large bedroom suites, open concept area, offices up to 845 sq. ft. The available optional VOC canisters makes the Amaircare 3000 highly effective in removal of VOCs, formaldehyde and most other toxic chemical substances.
Amaircare 3000 Air Filtration System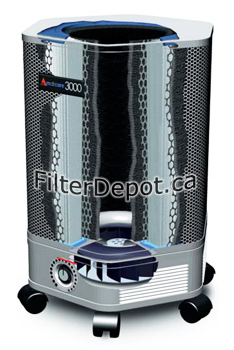 The Amaircare 3000 3-Stage air filtration system comprises.
Pre-filter (1st Stage)
As a first stage of the air filtration system, Amaircare 3000 employs the 1/4" thick non-woven polyester based filter media imbued 100% with Activated carbon.
Its purpose is to capture large dust and dirt particles, thus helping to protect fine True HEPA filter from faster contamination and extend its lifetime.
The carbon pre-filter also effectively traps most regular chemicals and noxious odors.
The carbon pre-filter's lifetime - 4 months.
The Amaircare 3000 Easy-Twist Standard Annual Filter kit includes a set of three replacement carbon pre-filters.


True HEPA Filter (2nd Stage)
The Amaircare 3000 air purifier employs the oversize 16" tall Easy-Twist True HEPA filter.
The Jumbo-size Easy-Twist HEPA filter contains a whopping 100 sq. ft. of True HEPA filter media, which makes Amaircare 3000 air purifier a True Powerhouse when it comes to effective and long-lasting removal of all harmful microscopic allergens, dust and airborne pathogens. The Easy-Twist HEPA filter features a "Perfect Seal" filter design. The same True HEPA filter design is used in the high-performance Amaircare air purifiers for whole house and commercial air cleaning applications. The Easy-Twist True HEPA filter design guarantees the perfect seal of the filter compartment, as it allows completely eliminate the polluted air by-pass and improve the overall air filtration efficiency.
The Amaircare 3000 top-load design of the filter compartment makes the filter changing procedure fast and easy. It doesn't require to flip a relatively heavy unit up-side-down to get access to the filter compartment, unlike in many other models of air purifiers on the market.
This top-load filter chamber design is especially beneficial for elderly people or individuals with limited physical abilities.
The "Jumbo" size of True HEPA filter renders a long filter's lifetime - up to 3 to 5+ years.
Activated Carbon Filter (3rd Stage)
Amaircare 3000 air purifier is available with a choice of either Standard Carbon blanket filter or an Optional VOC Canister for enhanced removal of cigarette smoke, VOCs and other specific chemicals.

Standard Carbon Blanket Filter (Inner Carbon Filter)
The standard carbon blanket filter is used in the Standard version of Amaircare 3000 Portable HEPA Air Purifier.
The Standard Carbon Blanket is a 1/2" thick non-woven polyester based filter imbued 200% with Activated Carbon. It guarantees an effective adsorption of most household chemicals and odors, including cigarette smoke.
The standard carbon filter's lifetime: 6 month (on average).
A set of 2 replacement Inner Carbon filters is included with the Amaircare 3000 Easy-Twist Standard Annual Filter Kit.

VOC Canister - Optional
The VOC Canister is used in the PLUS version of Amaircare 3000 Portable HEPA Air Purifier.
The VOC Canister is available in Two Versions:

1. VOC Canister with 100% Carbon (6 lbs / 2.72 kg) for enhanced adsorption of household chemicals, cigarette smoke, pet odors, etc.

2. VOC Canister with Formaldezorb (6 lbs / 2.72 kg) a proprietary adsorbent for effective removal of hazardous VOCs and other dangerous chemical substances released by household cleansers, paints, carpet, wallpaper, furniture, consumer electronics, cigarette smoke, etc.

The VOC Canister's lifetime: up to 12 months.
A single VOC canister is included into Amaircare 3000 Easy-Twist Plus Annual Filter Kit.


Vacuum Seal Gasket
There is a single rubber gasket used to vacuum seal the Easy-Twist HEPA filter cartridge.
The vacuum seal gasket perfectly seals the filter chamber and helps completely eliminate the polluted air by-pass.

Amaircare 3000 Motor Fan Assembly
The Amaircare 3000 air purifier is powered by a powerful, yet Energy efficient thermally protected insulated motor with centrifugal fan rated at 350 CFM (open air).
The one-piece Motor/Fan assembly is factory balanced to guarantee a vibration and noise-free operation.
The motor is rated for a long continuous operation at high RPM and is run tested for 50,000 hours of continuous operation.
The Amaircare 3000 air purifier employs the New electronic Touch Pad control similar to the one used in Amaircare 2500 Easy-Twist model.
It allows to select between 3-Speed setting:
Low - 50 CFM
Medium - 150 FM
High - 225 CFM
The powerful motor / fan delivers the air flow sufficient to effectively clean areas up to:
422 sq. ft. at 4 ACH (air changes per hour)
844 sq. ft. at 2 ACH
1688 sq. ft. at 1 ACH
The level of noise ranges from 37 dB on Low to 67 dB on High at 6' distance.
Amaircare 3000 - New Touch Pad Control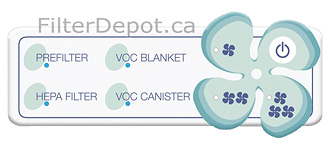 The Amaircare 3000 air purifier features a New re-designed electronic Touch Pad control.
The touch pad allows to toggle between the On/Off position and three Speed settings at a touch of a corresponding button.
The touch pad control panel also features the series of LED indicator lights indicating the corresponding speed setting.
In addition to that there are four "Filter Change" indicator monitor lights for: PreFilter / VOC Blanket / HEPA Filter / VOC Canister. The lights comes on to remind the user when it's time to replace the filter(s).


Amaircare 3000 Air Purifier Housing
Amaircare 3000 features the same durable, impact resistant the all steel housing design of Hexagonal shape made of 24 gauge cold rolled steel.
The upper deck of the unit is a 360° perforated steel polluted air intake. Large air intake guarantees the optimized air flow through the air filtration system and improves the overall air purifier performance.
The appliance quality baked-on powder coating produces No toxic off gassing and is available in two modern colors: Slate and Pure White.
The purified air is vented out of the unit through the clean air outlets / vents located on 4 out of 6 sides of the lower deck of the air purifier.
The downward vented air helps force settled particles back into the air where they are captured by the filters.
Amaircare 3000 - What's Included?
Amaircare 3000 air purifier comes from the factory:
Fully Assembled.
With full set of Filters installed (True HEPA filter plus carbon filter per model specification).
Ready-to-Use (unpack and plug it in)
Important Notice.
The Amaircare 3000 air purifier can be equipped with 220-240V 50Hz electric motor and power cord at extra cost. (Please contact for details)
Amaircare 3000 Manufacturer's Warranty
The Amaircare 3000 Manufacturer's limited warranty includes:
5 Years on Motor / Fan assembly.
1 Year on All other parts (filters excluded).
Amaircare 3000 Shipping Terms and Conditions
Amaircare 3000 air purifier ships Free by UPS or FedEx Ground delivery services in Canada and the Continental USA.
The alternative delivery services are available at a cost (will be displayed in the shopping cart).
There are no additional charges or extra fees related to the border crossing shipments (if involved) of Amaircare 3000 Easy-Twist air purifier to all US and Canadian customers.
The units that are found Damaged or Defective upon arrival are promptly replaced with new one Free of charge.
The air purifier has to be inspected for possible damages or problems upon arrival. If the problem is found, it has to be reported to the our company's Customer Service without a delay to schedule its prompt replacement.