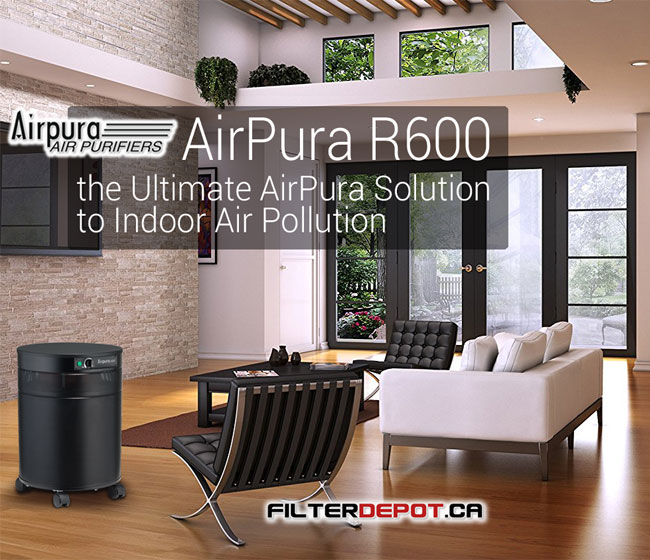 AirPura R600 Premium AirPura air purifier features the AirPura R600 5-Stage True HEPA and Carbon air filtration system to ensure effective all purpose air purification. The AirPura R600 HEPA and Carbon filters enable AirPura R600 to excel in fast and effective removal of most solid and gaseous air contaminants and pollutants in large homes, offices, classrooms and workplace areas up to 2000 sq. ft.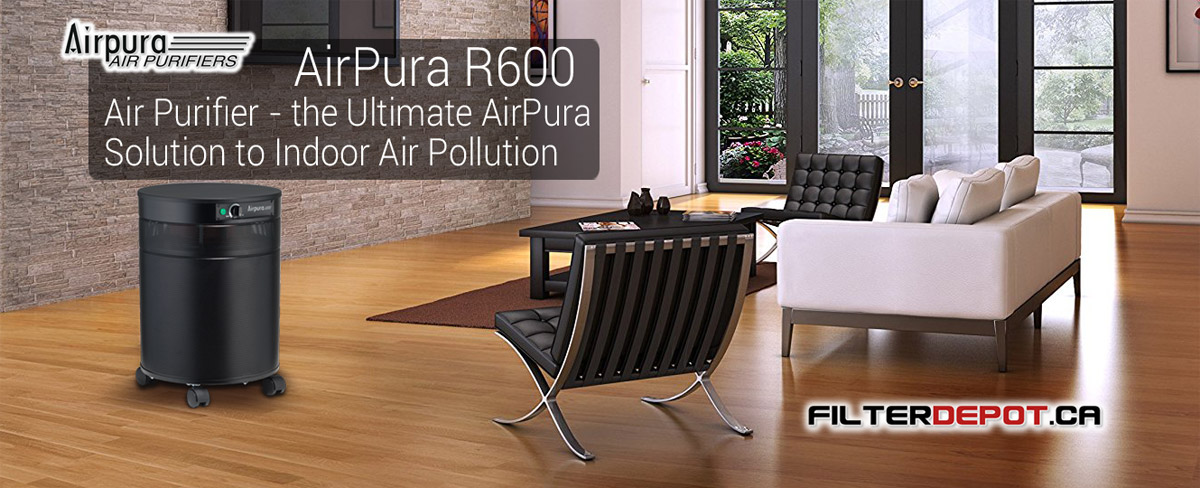 AirPura R600
AirPura R600 employs the High-Efficiency 5-Stage True HEPA and Carbon Air Filtration system.
AirPura R600 is powered by the compact, energy efficient and quiet one-piece motor/fan assembly.
The AirPura R600 variable speed control allows easily select the optimal air flow in all operating conditions.
AirPura R600 delivers a superior air flow of 560 CFM and can clean effectively areas up to 2000 sq. ft.
AirPura R600 features non off-gassing the all metal, durable housing with the appliance finish coating.
The AirPura R600 10-Year manufacturer's warranty is one of the strongest in the industry.
AirPura R600 produces no Ozone and no toxic off-gassing.
AirPura R600 is equipped with 4 wheel casters to ensure an easy mobility within the entire cleaning area.
AirPura R600 ships Free by Ground service in US and Canada. No US Sales Tax and No Border fees.
AirPura R600 is covered by a 30-Day Money Back Satisfaction Guarantee Return policy (some conditions apply).
AirPura R600 Benefits
The AirPura R600 essential benefits include:
simple operation
superior durability and reliability
long-lasting filters
minimal maintenance
quietness in operation
energy efficiency
high level of maneuverability
10-Year manufacturer's warranty
When to Use AirPura R600 ?
AirPura R600 is a powerful, efficient portable AirPura air purifier. The AirPura R600 is an ideal AirPura air purifier for creating and maintaining clean and healthy indoor environment in a single large open area or in multiple adjacent rooms up to 2000 sq. ft. The AirPura R600 large long-lasting filters, powerful yet energy efficient and quiet motor-fan assembly and a durable the all metal housing make the AirPura R600 an ideal air cleaning device for most household, office, institutional and commercial air cleaning applications.
AirPura R600 Air Filtration System
Large Long-lasting True HEPA Filter
The AirPura R600 True HEPA filter traps from the air over 99.97% of all microscopic airborne contaminants down to 0.3 micron in size to provide a superior level of protection from lung damaging dust, allergens, cigarette smoke, etc.
The range of solid airborne pollutants effectively removed by True HEPA filter includes: mold spores, plant spores, pollen, house dust mites and debris, lung damaging dust, pet dander, bird feather dust, microscopic ash particles in cigarette smoke and smoke from wood burning stove, etc.


Super HEPA Filter - Model R614
The AirPura R600 model is also available with Optional 99.99% efficiency Super HEPA filter instead of the 99.97% efficiency standard True HEPA filter at extra cost. The Super HEPA filter has even higher filtration efficiency for all microscopic allergens and lung damaging dust, and therefore offers a greater level of protection to individuals with respiratory issues and illnesses. The AirPura R600 model equipped with a Super HEPA filter has a designated model number AirPura R614.


ULPA Filter - Optional
The optional ULPA filter available in AirPura R600 has a superior air filtration efficiency of over 99.999% in trapping sub-micron allergens and dust down to 0.1 micron.
Importnat Notice! The much tighter ULPA filter provides a substantially higher resistance to the air flow, which results in a lower CADR (Clean Air Delivery Rate) and a reduced overall air purifier performance. The dense ULPA filter also puts an extra strain on the motor/fan assembly and may affect its longivity. For that reason, we do not ecourage the use of ULPA filter, unless it is absolutely necessary.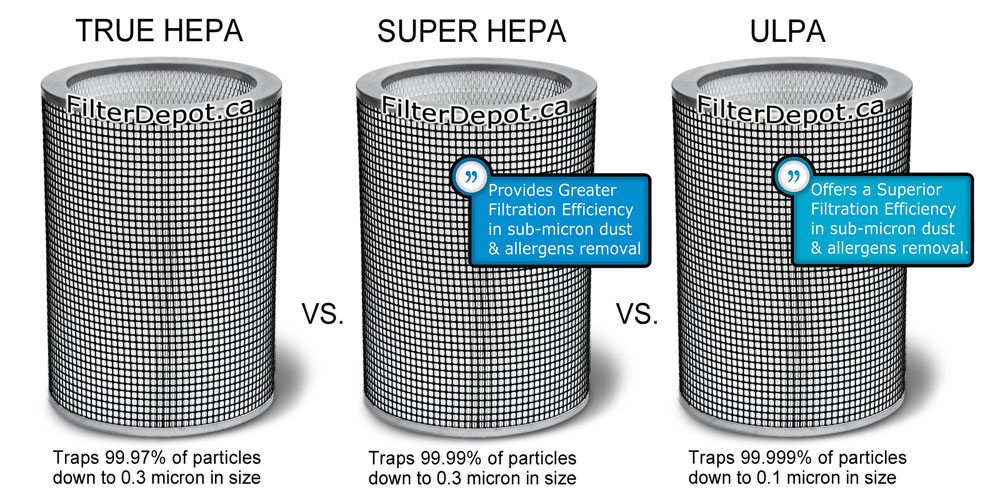 To get the AirPura R600 air purifier equipped with the Super HEPA filter or ULPA filter select the corresponding option from the "HEPA FILTER" pull-down menu.
Large Separate Chemical and Odor Filter
The AirPura R600 chemical and odors filter contains a massive amount (18 lbs.) of regular activated carbon adsorbent in a separate filter canister. Such a large amount of adsorbent guarantees fast and effective removal from the air of all regular chemicals and noxious odors such as: cuisine odors, pet odors, chemicals in cigarette smoke, smoke from wood burning stove, household chemicals, and many more.


Types of Adsorbent Used.
Coconut Shell (standard - most widely used adsorbent)
The AirPura R600 filter canister comes with coconut shell activated carbon as a standard adsorbent. The coconut shell carbon is the most widely used type of activated granular carbon adsorbent in high performance air purifiers for removal of wide variety of regular chemical substances found in residential and office indoor environment.
Anthracite (optional)
The optional Anthracite based activated granular carbon is available in AirPura R600 filter canister at no extra cost. The Anthracite adsorbent is offered as an alternative to Coconut shell carbon for individuals with Multiple Chemical Sensitivity (MCS), who can sense a very light sweet smell of the Coconut shell carbon. The Anthracite based activated granular carbon is also known for effective adsorption of petroleum based chemicals.


Polyester based Pre-filter (standard)
The Polyester based Pre-filter is the the first stage of the air filtration system of AirPura R600 air purifier. The pre-filter traps most of the larger visible dust and dirt particles to protect fine True HEPA filter from faster contamination and extend its lifetime.
The pre-filter can be vacuumed using a soft brush right through the metal mesh of the air purifier polluted air intake grill. The pre-filter need to be replaced when it gets very dirty or ruined (usually every 9 to 12 month or so).

Unbleached Pesticide-Free Cotton Pre-Filter (optional)
The optional unbleached pesticide-free cotton pre-filter is available at extra cost for the concerned customers.
AirPura R600 Motor Fan Assembly
AirPura R600 employs powerful, yet energy efficient Motor/Fan unit with variable speed control rated at 560 CFM.
The variable speed control allows the user to set the optimal air flow by selecting the speed setting that is the most suitable for any particular air cleaning application, activity or a time of the day.
The AirPura R600 one piece Motor/Fan assembly is a factory balanced to ensure the vibration and noise-free operation.
The compact design of a motor / fan unit leaves more room for placement of larger filters.
The AirPura R600's electric motor and electric components are placed in separate chamber to eliminate the contact with the already filtered air and prevent its re-contamination.
AirPura R600 Power Supply Options
In standard configuration AirPura R600 comes equipped for 120V, 60Hz power supply system - North America (Canada, USA, Mexico).
The optional configuration with the motor and power cord for 220-240V, 50Hz power supply is available for overseas customers at Extra cost. The type of electric plug should be provided in the comments box of the Shopping cart.
AirPura R600 Housing
AirPura R600 air purifier features durable, impact resistant the all metal housing design.
The appliance quality baked-on powder coat resists scratching, scuffing and stain.
The powder coat is totally inert and produces no toxic off-gassing.
The 360° Polluted air intake (lower section of the unit) ensures an unimpeded air flow through the air filtration system and improves the overall air purifier performance.
The 360° Clean air outlet at the top deck of the unit promotes even clean air distribution.
Clean air outlet in the upper deck of the unit is away from dust and dirt on the floor.
Four Wheel Casters on the bottom panel ensure an easy mobility of the air purifier.
AirPura R600 Manufacturer's Warranty
AirPura R600 air purifier comes with the most comprehensive limited manufacturer's warranty.
It gives the AirPura R600 air purifier owners a peace of mind.
The Manufacturer's Limited Warranty includes:
5-Year Full Warranty on Parts and Labor.
5-Year additional warranty on Labor (the more expensive part of the total repair cost).
The Total duration of Limited Manufacturer's Warranty - 10 Years.
AirPura R600 Certification
AirPura R600 air purifier is certified for safety by the US and Canadian certification authorities.
The AirPura R600 conforms to ANSI and UL 507; CSA C22.2 #113
AirPura R600 - What's Included
AirPura R600 air purifier comes from the factory:
Brand New and Fully assembled.
With all Filters installed (per model specification).
Ready-to-use (unpack and plug it in).
No installation required.
AirPura R600 Shipping Terms and Conditions
AirPura R600 air purifier ships free of charge by FedEx Ground delivery service in Canada and the Continental USA.
Other delivery services are available at a cost (will be displayed in the shopping cart).
There are no additional charges or extra fees related to the border crossing shipment (if any) for all US and Canadian customers.
AirPura R600 air purifiers are shipped in certified durable triple-wall corrugated cardboard boxes with sufficient cushioning.
The packaging is designed to provide sufficient protection from possible damages in transit under most circumstances.
The unit found to be Damaged or Defective upon arrival will be promptly replaced with new one Free of Charge.
The problem with the unit has to be reported to the Customer Service without a delay to schedule its prompt replacement.
AirPura R600 Replacement Filters
Important Notice!
AirPura R600 Air purifier ships with all Filters installed (per model specification).